Last post, I mentioned having a clever idea for turning my failed charcoal grate into a workbench.
That's finished now.  Behold in amazement:  (Who am I expecting to behold in amazement, actually?  As far as I know, I'm the only one who reads this thing, and it's purely for my own future amusement.  Behold, future me!)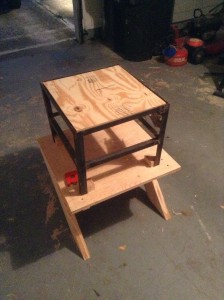 Not that impressive, I know.  It's basically a small wooden table, with a small metal frame sitting on top of it.  That's pretty much what I need, though.  The individual components fit together snugly, but there's nothing permanently fixing the metal frame to the table.  Just four wooden blocks inside the angle of the legs.  And the wooden top drops into place on the frame, but likewise is not permanently affixed.  So, it can be taken apart: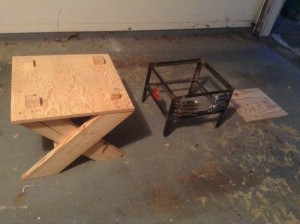 Which makes the whole thing semi-portable.  Notably,  all the individual pieces will easily fit in my vehicle if I want to take it somewhere.  And it's not incredibly heavy, even though it's very sturdy.  A horse could stand on it, assuming it was a very coordinated horse.  Also, fully assembled it's the same height as my other workbenches.  Not by coincidence.  That's also a convenient height for me to work on stuff in general, instead of sitting on the floor like I have been doing.
Which is all peachy, but the real benefit of the thing is that it's got a lot of places to clamp stuff.  All those metal bars are ideal for attaching pieces at different angles and holding them rigid in relation to one another.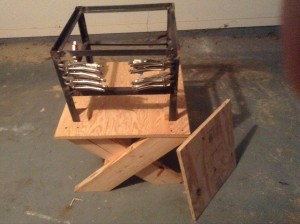 Good clamping makes everything easier.  I've known that from woodworking in the past, and my recent welding practice has only reinforced the lesson. 
All the individual pieces of this setup are really durable or easily replaced.  Both, actually.  If I drop hot metal or wood glue on any part of this guy, I'm free to not care.  That's handy, since I'm not always neat.  The top can be swapped quickly, so I'm planning to make several with different goals.  Keep a blank one for a flat workspace, but also have one with a bench vise bolted on, probably one with a chop saw for future metalworking projects, maybe bolt my drill press to one, and so forth.  Plus, built an extension that's even with my tablesaw's top surface, to be a sawhorse.  I've needed that for a while now.